Endangered Species Youth Art Contest
Congratulations to our 2023 winners!
Join us for our 6th annual Endangered Species Youth Art Contest! In celebration of Endangered Species Day (May 19, 2023) Roger Williams Park Zoo is accepting art entries from local K-12 grade students and homeschoolers in the New England area depicting threatened and endangered species. Art can inspire others to make deep connections and empower change. Together we hope to raise awareness about the importance of saving endangered species and their wild habitats.
Thank you to everyone that took part in our 2023 contest! We look forward to next year! See below for complete contest guidelines, past winners, prize packages, and submission instructions.
Special thank you to supporting partner:
Art Contest Guidelines
Rules & Art Submission Instructions:
All entries are to be submitted electronically.
Students' artwork must be original. Computer-generated and traced images will NOT be judged.
All artwork MUST depict threatened/endangered species.
Each art entry must also include a short explanation (3-5 sentences) as to why saving your chosen species/subject from extinction is important.
Students may submit more than one entry.
Deadline extended! Entries must be received by Sunday, April 9, 2023. Late entries will not be judged.
We appreciate you celebrating our wild world with us!
Please Note: All artwork becomes the property of Roger Williams Park Zoo. Submission of the artwork grants the Zoo a non-exclusive, royalty-free license to publish your student's/child's artwork in our editorial, educational, and promotional print and digital materials, and on social media. All published artwork will be credited "Artist's Name."
Questions? Please contact Corrie Ignagni, Manager of Digital Communications at cignagni@rwpzoo.org. Thank you!
2023 Art Contest Prizes
GRAND PRIZE (Judges Choice)

One (1) Family RWPZoo membership (a $149 value; or extra year added to current Zoo membership. Renewal based on equal or lesser valued-membership)
An adopt-an-animal package of your choice
One (1) $100 gift card to Jerry's Artarama of Providence
Artwork custom framed by Jerry's Artarama of Providence and displayed in the Zoo's Hasbro's Our Big Backyard exhibit until May 2024.

GRADE CATEGORY WINNERS (Grades K-2, Grades 3-5, Grades 6-8, and Grades 9-12) Each grade-winner shall receive:

Six (6) General daytime admission tickets to RWPZoo
One (1) $25 gift card to Jerry's Artarama of Providence
Artwork custom framed by Jerry's Artarama of Providence and displayed in the Zoo's Hasbro's Our Big Backyard exhibit until May 2024.

HONORABLE MENTIONS (Grades K-2, Grades 3-5, Grades 6-8, and Grades 9-12) Each grade-honorable mention shall receive:

Four (4) General daytime admission tickets to RWPZoo
An award certificate
All winners and honorable mentions artwork will be highlighted on the Zoo's website and social media pages, and in the Zoo's summer WILD Magazine issue.
2023 Winners:
Congratulations to the student winners of the 2023 Endangered Species Youth Art Contest! The Zoo's 6th annual contest received over 300 art submissions from creative and talented young artists from across New England. Big thanks to the countless teachers who helped their students take part in this year's contest and for helping us raise awareness of endangered species everywhere. Thank you to our co-partner, Jerry's Artarama of Providence, for their continual support. See their works in the Zoo's Big Backyard exhibit later this June 2023.
2023 Grand Prize Winner:
Angie Zhang (Mississippi Sandhill Cranes, 9-12)
Mississippi Sandhill Cranes are critically endangered as it has lost much of their environment to invasive species, land development and pine plantations. These songbirds perform lovely dancing displays and mate for life! As more land is taken, it is important to conserve the unique wet pine savanna ecosystem that these cranes reside in.
9-12 Grade Winner:
Alan Xu (Florida Grasshopper sparrow, 9-12)
Saving the Florida grasshopper sparrow is important because of how critically endangered they are and their close ties with Florida's prairies. Due to habitat loss as a result of habitat destruction due to conversion to land suitable to grazing, the Florida grasshopper sparrow subspecies is critically endangered with their population numbering slightly above a hundred in the wild. Because of habitat conversion, the Florida grasshopper sparrow is facing extinction due to humans blindsided by greed. I believe it is important to save animals who fall victim to mindless destruction of habitat.
6-8 Grade Winner:
Helen Xia (Piping Plover, 6-8)
The Piping Plover is a small and adorable shorebird that settles in sandy beaches across the coast of the U.S. Along the coast, more and more human infrastructure is being built, which diminishes the area Piping Plovers can use as nesting and feeding grounds. When settling by beaches, these birds face the danger of the rising sea levels forcing them to renest inland, where more human activity takes place, as well as a further increase of their natural predators. Due to these threats, the Piping Plover has been marked as endangered since 1986. However, the amount of Piping Plovers has recently increased. We can continue to help this species by protecting their nesting sites, as well as informing the public to keep a safe distance from these shorebirds to prevent disturbance.
3-5 Grade Winner:
Priscilla Yuan (Alabama Beach Mouse, 3-5)
Many beach mice subspecies inhabit coastal dunes in Alabama and Florida. Alabama beach mouse is endangered because human destruction and environmental pollution. I feel so sad for them. I hope more people could protect them.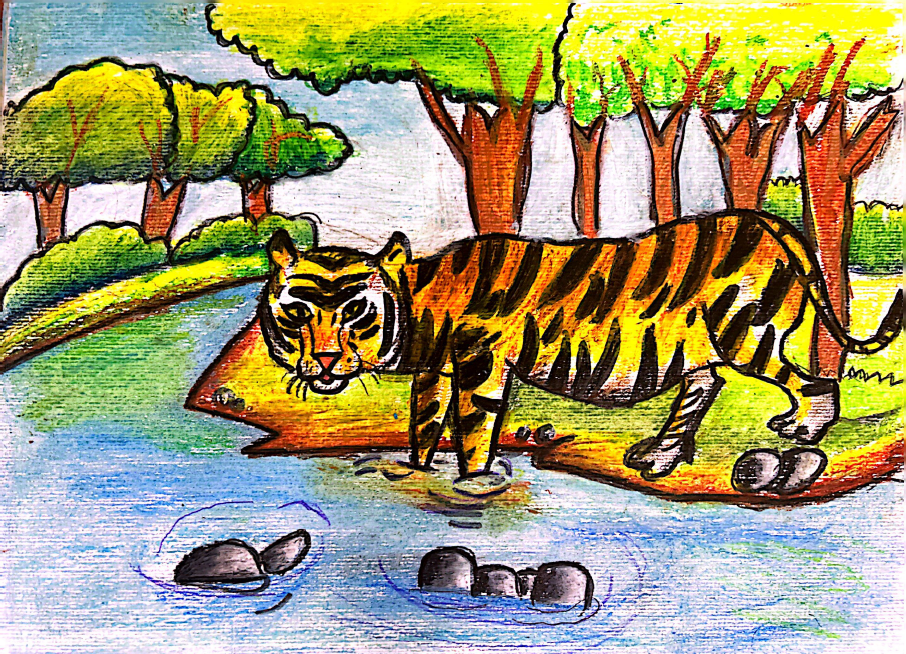 K-2 Grade Winner:
Vahinveer Karthik (Tiger, K-2)
Tigers play an important role in balancing the ecosystem. Tigers prey herbivores. It helps to balance between the prey animals and vegetation that they eat. If tigers are absent then the prey animals population will explode and spoil the ecosystem. So it is important to save the tiger from extinction.
2023 Honorable Mentions:
Past Winning Entries
2022 Winners
2022 Grand Prize Winner:
Gina Yang (Green Sea Turtle, 9-12)
Indigenous to Hawaii, the green sea turtle is critically endangered and experiencing unprecedented rates of extinction. One of the main threats to the turtles has been the danger of entanglement in fishing nets. As man's exploitation of the environment is affecting the green sea turtle population, it is our responsibility to protect the green sea turtle as an integral part of the ecosystem.
9-12 Grade Winner:
Samantha Thibeault (Polar Bears, 9-12) 
I believe that saving Polar Bears from extinction is incredibly important.  Because the ice is melting in the arctic area, they are already endangered.  If the ice fully melts, Polar Bears would be forced to live on human-occupied land, and would live an unhealthy life.  No animal should be forced into extinction, including Polar Bears.
6-8 Grade Winner:
Anna Cherepowich (Sumatran Tiger, 6-8)
The Sumatran Tiger is one of the smallest of the tigers and also one of the most beautiful. It's deep orange coloring is stunning. They are only native to the island of Sumatra in Indonesia and they were listed as critically endangered in 2008 with less than 400 left. The main reason: deforestation and poaching. Because humans are the ones responsible for this, it is our responsibility to raise awareness for these beautiful cats and ultimately, save them from extinction.
3-5 Grade Winner:
Olivia Yi-Jie Chen Rose (Giraffe, 3-5)
Thank you for hosting the art contest, I really enjoying painting my artwork. The reason I choose to draw the giraffe is because they are cute and excotic animals that are going extinct. I want to support the giraffes because they keep the ecosystem in balance by eating the plants that other animals can't eat. If the giraffes around the world go extinct, then the Earth will be unbalanced and these animals will be forgotten. Please save the giraffes!
K-2 Grade Winner:
Madelyn Huggins (African Elephants, K-2)
Elephants are very important to their ecosystem. If elephants didn't exist, a lot of other animals would suffer. It is wrong that elephants are killed for their tusks.
2022 Honorable Mentions: